Facilities Manager - Dual Site
R0091202 Chapter Spitalfields London, United Kingdom
Overview
Greystar is looking for dedicated and hard-working individuals who want to help us continue to be the best as what we do. Today, we are the largest rental housing operator and developer in the US and one of the largest global investment management companies, delivering industry-leading services to investors, clients, and residents. We offer unrivaled professional development and career growth opportunities to our team members and look forward to welcoming you to Greystar, where our people are what make us the Global Leader in Rental Housing.
Job Responsibilities
Supports the Community Manager to achieve operations and financial goals through overseeing the teams and performing the facilities tasks of a technical services and property maintenance function to both the internal and external parts of buildings, grounds, amenities, and common areas to meet the Company's requirements for building standards, health and safety, statutory compliance and overall asset functionality.

JOB DESCRIPTION
Role Summary:
Supports the Community Manager to achieve operations and financial goals through overseeing the teams and performing the facilities tasks of a technical services and property maintenance function to both the internal and external parts of buildings, grounds, amenities, and common areas to meet the Company's requirements for building standards, health and safety, statutory compliance and overall asset functionality.
Key Role Responsibilities:
Acts as a role model at all times by demonstrating the core values
Actively seeks interaction and contact with residents to proactively seek to improve service delivery and takes appropriate action to resolve and address service issues.  
Assigns and ensures completion of work orders generated from resident requests for service within the appropriate time and to the required standards, as well as ensuring the routine upkeep on the properties by diagnosing the source or cause of the defect or problem, and making repairs in accordance with established policies, procedures, and safety standards.
Monitors the building services maintenance and management regime to ensure the mechanical, electrical and other building services plant and equipment reach their expected life span. Notification of major defects or failure trends to the Community Manager and Estates Manager with recommended actions and costings where appropriate.
Works with external stakeholders on a regular basis i.e. local council, project managers, fire services to ensure the property is compliant in all aspects of its works.
Works with the Estates Management team to ensure Fabric, Electrical and Mechanical works are correctly specified and technical advice is available and be the point of contact for Capital works handover back to the property.
Provides the Estates Management team with monthly reporting of PPM, potential life cycle replacement and contractor performance reviews.
Inspects work performed by other maintenance team members to assess workmanship, effectiveness of policies and procedures and develop corrective action plans as needed.
Hires, onboards and develops capability of team members in order to meet key performance goals and future succession requirements.
Contributes to the development of the annual budget(s) for the properties and is accountable for attainment of related budget goals by analysing and evaluating financial statements, reconciling monthly statements against approved budget, and working with the Community Manager
Originates, approves and submits purchase orders and processes invoices from vendors, contractors and service providers for payment and manages communication with finance team members and other stakeholders as required.
Maintains adequate inventory of spare parts and maintenance materials and works with Community Manager to order supplies and tools as needed to stay within budgetary guidelines. 
Develops and actions regular planned preventative maintenance (PPM) schedules with the approved supply chain of contractors at the required intervals. Contributes to the selection and management of the PPM Contractors.
Monitors reactive, statutory and PPM, works ensuring service level agreements are met, and accurate, up to date records are kept on systems and at the property.
Coordinates and monitors minor works contractors and suppliers' standards; retains accurate stock records, site operations log, including all relevant RAMS & Permits to work, testing records and conducts annual PAT testing to achieve statutory compliance. Ensures that the Asset Management Plan documentation (Operations and Maintenance Manuals, Health and Safety File and Statutory records) are maintained in an up to date state in each property.
Reviews and actions site risk assessments and method statements as required with Community Manager. Checks that there are no Contractors allowed within or on the property without the necessary RAM's, PPE, induction and permit to work notices when appropriate. Carries out the requirements of HASWA and CDM.
Is available on call out of hours to respond to emergency situations to resolve problems or contact contractors to address.
Ensures that the appearance and physical aspects of the properties meet established standards through routine quality and safety inspections, and communicates concerns and requests for capital as needed to provide for the physical upkeep of each property in the portfolio.
Works with Community Managers to develop a positive culture aligned to our brand pillars; championing consistency and operational excellence in the area of facilities management. Proactive in striving for continuous improvement through feedback
Organizational Responsibilities:
Follows established policies and procedures by monitoring and ensuring compliance with regulatory requirements, organizational standards, and operational processes related to area(s) of responsibility and reporting violations or infractions to appropriate individual(s).
Demonstrates appropriate safe behaviours in accordance with Company, property, and departmental policies, procedures, and standards by immediately reporting any mechanical or electrical equipment malfunctions, employee/visitor/resident injuries or accidents, or other safety issues to appropriate individual(s).
Identifies areas for improvement, offers suggestions to improve efficiency and productivity, and implements ideas that achieve operational excellence.
Keeps abreast of current changes in technology, processes, and standards within the industry and area(s) of responsibility by attending internal and external training classes.
Role Scope:
Key Relationships:
Community Manager and Team
Contractors and Suppliers
Corporate Support Teams including Estates Management, Development, HR, Finance, H&S
About You:
Knowledge & Qualifications:
Good level of general education educated to 'A'/HND Level as a minimum or equivalent with demonstrable written and numerical skills.
Proficient in the use of Microsoft office packages including Word, Excel and Outlook.
An understanding of UK Health & Safety laws and statutory regulations relating to buildings management including interactions with Local Authority Representatives
A qualification in electrical/mechanical engineering or plumbing (i.e. NVQ, City Guilds or similar) or the equivalent of an apprentice program or trade school in the building trades.
Knowledge in all building repair trades, purchasing procedures and practices, painting and repair procedures.
General knowledge/understanding of Health and Safety risks including manual handling, worksite safety, chemicals, trip and fall hazards.
Continually strives to improve knowledge, skills and abilities to produce the best results.
Experience & Skills:
Essential:
Building maintenance experience in a Corporate residential environment (i.e. hotel, premium or private residential block) or experience in a related building trades field consisting of repairs, refurbishing, cleaning, heating, and maintenance administration.
Previous experience of supervising contractors/suppliers and of working with teams repairing and maintaining premium residential buildings
Experience of developing and maintaining risk assessments, managing preventative maintenance systems and the ability to support the Community Manager to meet their obligations to operate a safe building.
Exceptional communication skills and the ability to work with impact and influence and comfort with and awareness of the demands of working a customer-facing role.
A strong work ethic and ability to work independently and take ownership of a task/project
A positive team player with a flexible and adaptable approach to work; including a willingness to work on-call or overtime where required.
Strong commercial awareness with aptitude to determine the innovative and cost effective solutions
Desirable:
A degree or equivalent qualification in a related discipline, e.g. engineering or estates management may be beneficial
A knowledge and understanding of change management with the ability to effectively implement it when required
IOSH qualified
An understanding of HVCA SFG20 maintenance job plans
Success Profile
What makes a successful Greystar team member? Check out the top traits we're looking for and see if you have the right mix.
Professional
Organized
Responsible
Resourceful
Helpful
Confident
Trending
x
Meet our people and discover how you can make an impact providing a home to people across the world.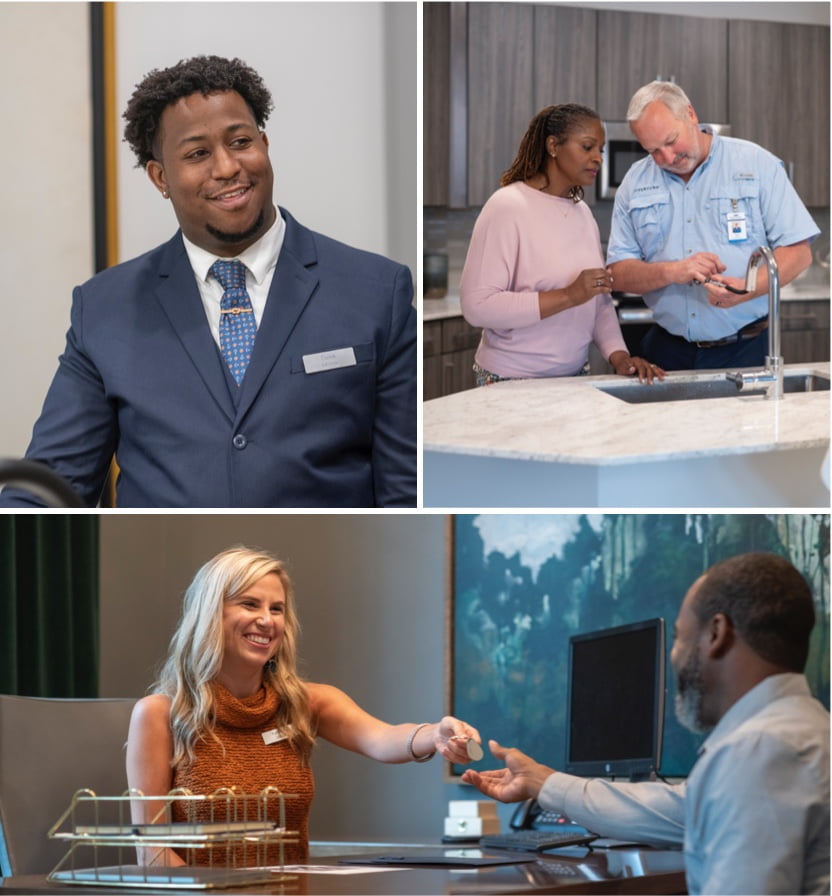 "Greystar and my values are perfectly aligned to enrich the lives we touch by doing things the right way. The company lives by this and it provides balance in my life and work becomes an entirely different experience. There is passion that moves you to a whole new level of fulfillment and gratitude. That's when you can do your best for yourself, your customers, and your team."

- Daiva
Benefits
Healthcare
Health insurance (including company-paid opportunities) is offered, along with competitive dental and vision insurance plan options
Retirement Planning
Flexible Spending Accounts and Employer-matched 401(k) plans are offered
Paid Time Off
Full-time team members receive generous paid time off – including your birthday! – as well as paid sick leave, personal days, and company holidays
Paid Parental Leave
Maternal and paternal paid leave is available for the birth or adoption of a child
Professional Development
Ongoing support is available for career advancement opportunities in addition to corporate training programs
Employee Assistance
Program
Experienced counselors are available 24/7 for confidential assistance to listen and help you find solutions at no cost to you
Note: Outlined benefits may vary by international region.
Recently Viewed
Jobs
You have no recently viewed jobs.
Saved
Jobs
Don't have any jobs saved yet? Then start looking! Once you've found one you're interested in, click the Save Job button or icon on the search results or job description pages.