With offices and communities across the United States and around the world, there's no better place to start your career than with Greystar, the Global Leader in Rental Housing. We believe in hiring top talent directly out of undergraduate and graduate programs and offer the opportunity to grow in any direction you choose.
Campus Recruiting Timeline
August -
September
Intern program ends
Full-time & Intern applications open
September -
Mid November
MBA On-Campus Presentations
Full-time & internship undergraduate recruiting for full-time & internship positions
On-campus Career Fairs, events, & property treks
January
MBA Interviews for full-time & internship positions
January -
April
Full-time & internship undergraduate recruiting for full-time & internship positions
On-campus Career Fairs, events, & property treks
May
Deadline for full-time & Intern offers
Internship Program
By joining Greystar for a 10-week internship program you'll have unparalleled experience working alongside, and learning from, industry leaders, and will gain exposure to all business segments.
Intern Program Events
Executive Speakers
Weekly Lunch + Learns
Trainings and Workshops
Site Tours
Mentorship Program
Program-end Capstone Presentations
MBA Internship Program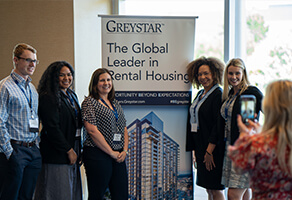 Whether you worked in real estate prior to business school or are changing careers, we encourage you to apply to our Summer Associate intern program for graduate-level students. At Greystar we are looking for enreprenuerial, driven interns who are eager to make real estate the next step in their career. You will gain impactful experience in the area you choose, working side by side with our teams and learning from the best in the business how to succeed in your career goals.
Property Management Internship Program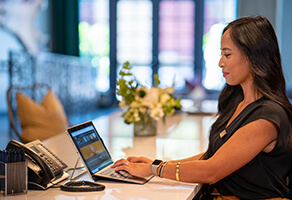 Spend 10 weeks learning about every position within the Greystar Operations team as you see first-hand what it takes to run a multi-million dollar asset. While working at a Greystar community, you'll meet residents, give property tours, learn about market share, shop our competitors, gain exposure to financial management, vendor management, and client relations, and discover how our service team manages every aspect of a physical property.
Corporate Internship Program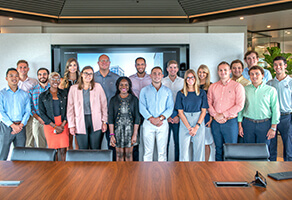 Greystar offers Corporate internship positions available in Investment Management, Development & Construction, Information Technology, Marketing, Customer Experience, and Accounting. During your 10-week internship, you'll have the opportunity to gain hands-on experience working with a close-knit team, serving both our internal and external clients, and handling real-world projects and assignments that impact Greystar's business.
Organizations We Partner With Globally Recently Viewed
Jobs
You have no recently viewed jobs.
Saved
Jobs
Don't have any jobs saved yet? Then start looking! Once you've found one you're interested in, click the Save Job button or icon on the search results or job description pages.